The Blue Hen - Eagle Rock
On this dreary, rainy Friday afternoon, we decided to stay close to home for lunch, venturing only as far as Eagle Rock. We wanted to try the new-ish Blue Hen Vietnamese Kitchen. They use organic, locally grown produce, and they are vegan/vegetarian friendly.

Blue Hen is in a strip mall on the north side of Colorado, a bit east of Eagle Rock Blvd. At lunch time, the little parking lot was crowded, but we finally found a spot down at the far end. The restaurant is quite small, but nicely done on the inside - a lot of dark, modern wood and colorful abstract art on the walls. Very modern feel.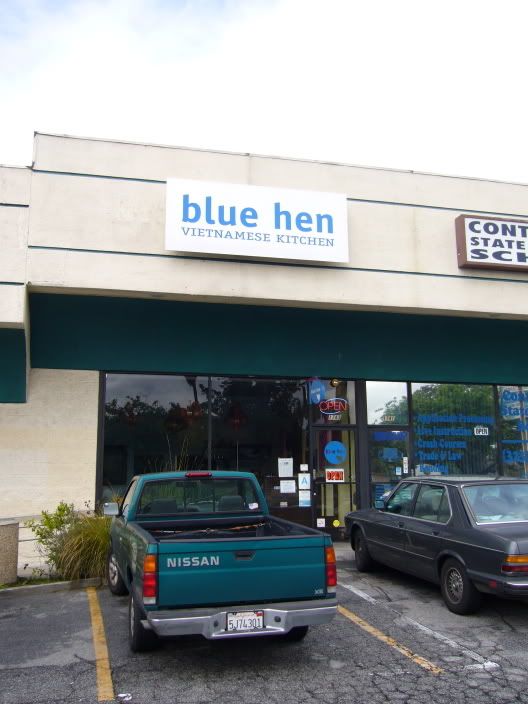 We were both pretty hungry, so we decided to start off with the spring rolls as an appetizer ($5.75). You have your choice of chicken or tofu, and, naturally, we chose tofu. They came out pretty quickly, and were very attractively presented. They were served with the usual spring roll-type peanut dipping sauce. The spring rolls were quite good, and the lightly fried tofu strips inside were a nice touch. I would have liked a little stronger mint presence, though.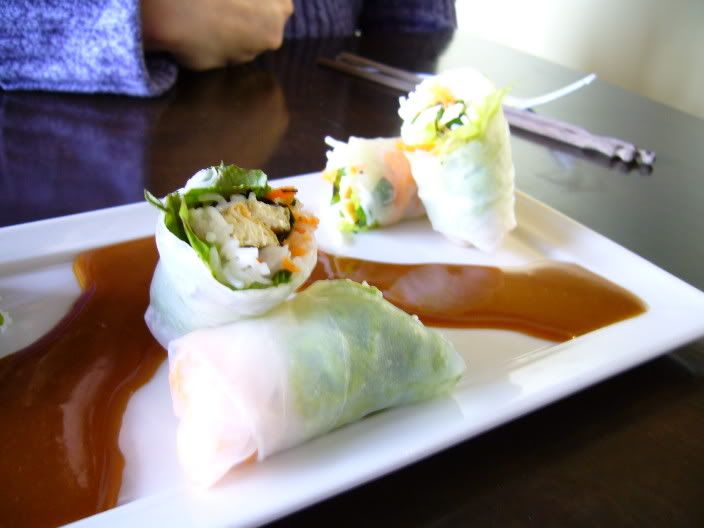 For our entrees, I chose the rice noodle salad (also known as bun). It comes with Imperial rolls on top, and again, you have your choice of chicken or tofu. Tofu for me! Also, if you're vegan, you can request a vegan soy sauce instead of the fish sauce normally served with this dish. At first, I was a little disappointed that there was no chili sauce on hand to add to my salad, but one bite of the Imperial rolls told me why. They were SPICY. Quite good, and a nice complement to the lighter flavor of the rice noodles and greens. The dish was a bit heavy on bean sprouts, and I probably could have used a bit more fish sauce, but overall, it was quite good. $8.00 for this dish.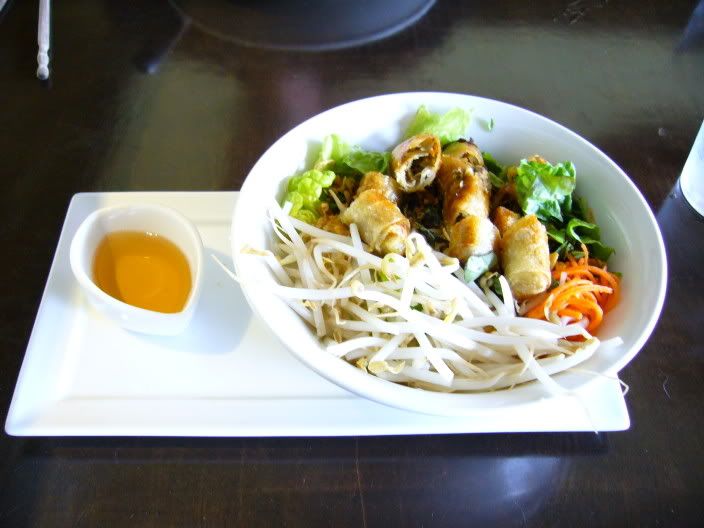 Brian had the carmelized ginger chicken and tofu. It comes with a side of brown or white rice and some fresh market greens. Brian seemed to like it quite a bit, as he barely stopped short of picking up his plate and licking it clean when he was finished. ($8.75).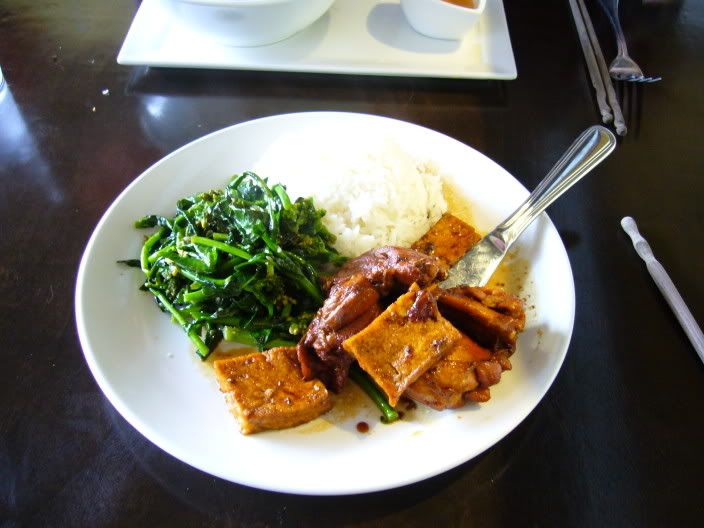 Overall, quite a good experience. We could have used a water refill before the end of the meal, but other than that, the service was good. We did overhear one server telling a neighboring table that they were out of the broth they used for their pho, so it wasn't available today. That's a shame, because I could imagine that would taste good on such a cold, rainy day. They were also out of their lime tonic, which Brian had wanted to try. Oh well, another time. I can definitely see us coming back to the Blue Hen when the mood strikes us.

Blue Hen Vietnamese Kitchen
1743 Colorado Blvd.
Eagle Rock, CA 90041
323-982-9900