Gingergrass - Silverlake
We must be on a Vietnamese food kick lately. Or, maybe it's just that we went to Din Tai Fung twice last week and needed a week off again. So, this Friday, we decided to try Gingergrass in Silverlake. It was finally a WARM, sunny day. I thought I would be wearing sweaters and jackets forever. But, Friday brought us a beautiful 80+ degree afternoon. We found parking easily enough, behind the restaurant. When we arrived inside, it was pretty busy for 12:30 on a Friday. We were seated at the last available table. Being that we almost always spend Fridays in Arcadia, switching to Silverlake brought the 'hipster' level up a ways. But it wasn't too annoying.

The decor was pretty minimalistic, and we appreciated that each table had hot sauce, chili garlic sauce, and hoisin sauce. The menu offered a wide variety of choices, and it was very vegetarian friendly. After careful perusal, we decided to start with the fresh tofu summer rolls - "with lettuce, vegetables and herbs served with our vegan nuoc cham." Delicious. And at $4.50, pretty reasonably priced. The portion was a bit smaller than at Blue Hen, but the quality was MUCH better. Ingredients were fresher, and the tofu was quite well prepared.




For our entrees, I selected the Gingergrass Tofu lunch plate - "crispy tofu with shiitake mushrooms and baby bok choy served with our vegan nuoc cham sauce". At $7.95, it was quite the bargain. It was light, but still filling. The bok choy and mushrooms had just enough seasoning to be interesting, but not so much that they lost their fresh veggie tastes. The dish was also served with broken rice and Vietnamese slaw, which was an excellent, very light, tangy concoction. No nasty mayo or anything like that. I declared this dish to be delicious!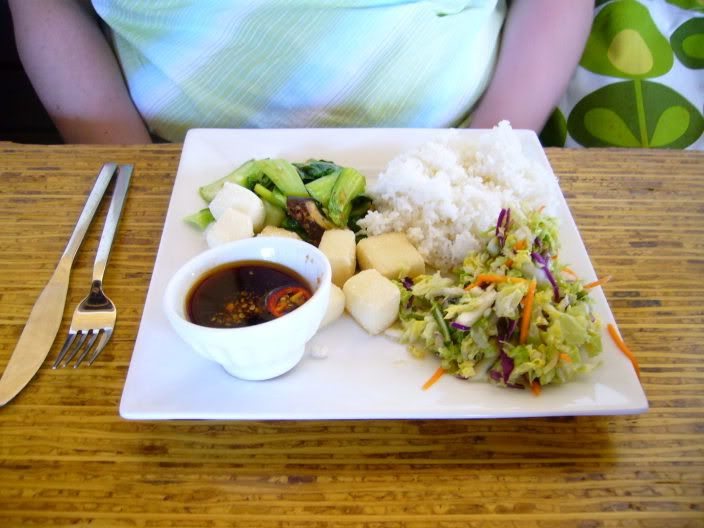 Brian chose the Wok-Tossed Noodles with tofu - "egg noodles with your choice of chicken, beef, or tofu tossed with bean sprouts, onions, carrots, and cabbage". It looked quite filling, and it was $9.75. Brian particularly enjoyed how the onions were prepared - all grilled and sweet tasting.




We will DEFINITELY come back here. There were quite a few items on the menu I wanted to try - particularly their basil-lime elixir and their fresh ginger limeade. They also serve alcohol and are open for dinner. There was a large selection of daily specials posted on a large chalkboard at the front of the restaurant. Lots of yummy things to try!

In our food satisfaction, I completely forgot to take a picture of the exterior. Oh well.

Gingergrass
2396 Glendale Blvd.
Los Angeles, CA 90039

323-644-1600